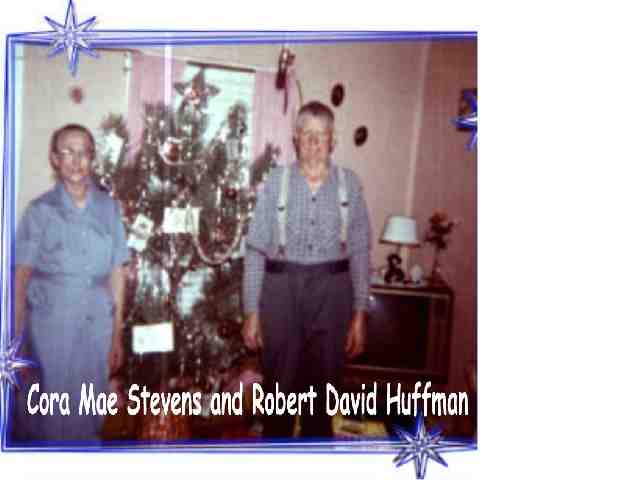 Cora and Robert Huffman - the grandparents who raised Pat (Spicer) Smith and her brother William Dorin Spicer Jr. (Mickey) when their mother died of cancer July 1957.
Robert (Rob) was born and lived in North Wilksboro, NC until the age of 9 (1901) when his family migrated to southern WV. The family was large and they traveled by covered wagon - walking much of the way. The trip took a week. They hunted and foraged for food as they traveled. The booming coal mining industry at McComas, WV brought the family there. Rob worked in the mines as a water boy at the age of 9. For the majority of his adult life he worked on the OUTSIDE of the mines. He was a teamster. He worked with the mules at the Thomas Coal & Coke Company Stables in the early days and later drove a truck for the American Coal Company at Pinnacle, WV.

Rob married Cora Mae Stevens in 1912. Cora was the daughter of Virginia Ardella (Crawford) and Pleasant Stevens. She was born and raised near Tazewell, VA at TipTop. Robert and Cora purchased property and a house (I have 3 deeds in my possesion showing the buying and selling of that land) and moved the HEAD of the Pinnacle Hollow Section of McComas soon after they were married and raised 9 children (5 boys and 4 girls). In the 1930s they moved from Pinnacle Hollow to the Thomas section of McComas where they lived until the early 1970's when Cora and he both died. As I remember my grandfather Rob he loved to work in his garden. He and his brother Walt Huffman (who lived at Pinnacle) sort of had an unofficial race to see who could grow the largest tomatoes. I must say they both grew some large ones. Cora tended the crop after it was harvested. She would can fruits, berries, preserves and vegetables all summer on her coal/wood burning cook stove. Cora was an excellant cook also. No one came to her house without being invited to eat. It seems there was always some type of food simmering on the back of that wood buring stove. Her cornbread and biscuits were the best.

Rob retired in 1955 - I remember him most during these years. He never learned to read or write (he said he only attended school one day in his life - he didn't like school so he never returned he told me). My grandmother died in 1970 and my grandfather a few years later. I lived with them from 1957 (when my mother) their 3rd daughter Helen died. I was 11 and my brother Mickey was 7 at that time. I have fond memories of Sunday dinners at their house with many relatives and friends gathered on their front porch. The conversations were friendly and many of my grandparents memories of their earlier lives were relayed to all who were present. My aunts, uncles and their friends also relayed their memories. These seemed to be a simplier happier time. You only had to be present and listen to soon realize that their McComas memories and old friendships they built would always remain precious to them.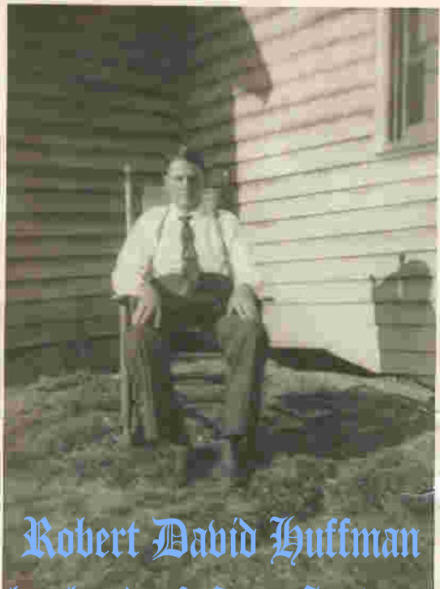 These photos of Rob (left) and Cora (below) were taken at Thomas, WV in the 1940s. Rob is sitting in his favorate rocking chair in the yard (I remember seeing him sitting out there many years later). Cora is in the yard on the opposite side of the house.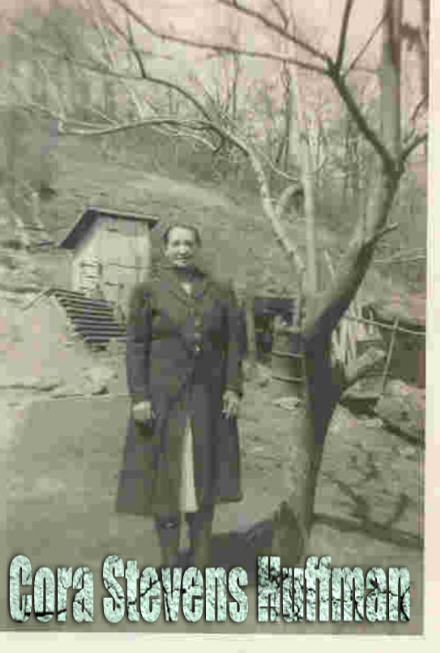 9 Children of Robert David and Cora Mae (Stevens) Huffman
along with their spouses

1 Robert David Huffman 1880 - 1972 d: July 1972 in Bluefield, WV
. +Cora Mae ("Carrie") Stevens 1891 - 1970 d: September 1970 in Bluefield, Mercer County WV
.. 2 Troy Robert Huffman 1913 - 1980 d: March 1980
...... +Grace Walker 1914 - 2001 d: May 21, 2001 in Princeton Community Hospital, Princeton, WV
.. 2 Albert Lee Huffman 1915 - 2001 d: June 16, 2001 in Princeton Community Hospital, Princeton, WV
...... +Ethel Mae Harmon 1915 -
.. 2 Glen Howard Huffman 1918 - 1996 d: 1996 Mercer Co, WV
...... +Margaret Browning Huffman 1916 -
.. 2 Thelma Mae Huffman 1921 - 1999 d: 1999 in Bluefield, Mercer County WV
...... +Frank Herbert Mitchem 1921 - 1976 d: 1976 in Mercer County WV
.. 2 Elsie Fitzhugh Huffman 1923 -
...... +Charles Fairfax Bailey 1916 - 198? McComas, WV
.. 2 Helen Ann Huffman 1925 - 1957 d: July 09, 1957 in Bluefield, WV
...... +William" Bill" Dorin Spicer 1920 - 1987 d: November 12, 1987 in Millersville, MD
.. 2 Ray Huffman 1926 - 197? Mercer Co, WV
...... +Elizabeth Babson
.. *Partner of Ray Huffman:
...... +Janice Short
.. 2 Luther Huffman 1929 -
...... +Betty Loella Cox
.. 2 Margaret Louise Huffman 1931 -
...... +Everett Davis - 2000 d: September 2000 in Bluefield, WV